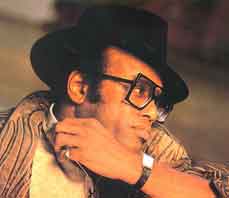 Bobby Womack (born Robert Dwayne Womack, 4 March 1944, in Cleveland, Ohio, U.S.) is an African-American singer, guitarist and songwriter. Working in the soul and R&B genres, he achieved his greatest success in the 1970s and 1980s.
Taking after their father, who sang gospel music, Bobby Womack and his brothers formed their own group. Sam Cooke took an interest in the Womack Brothers, and they recorded for Cooke's SAR record label in the early 1960s. Renamed the Valentinos, and encouraged by Cooke to go in a more secular and commercial direction, they scored a hit with Womack's "It's All Over Now" in 1964; the Rolling Stones' version of the song became a major hit, earning Womack generous royalty payments.
In March 1965 just after he turned 21 years old--and just 3 months after Sam Cooke's December 1964 murder -- Womack created scandal by marrying Cooke's widow Barbara Campbell. Womack claimed he married Barbara for fear that if she were left alone she would do something crazy[1] [2]. They divorced in 1970. Things became even more complicated when his younger brother, Cecil, married Sam and Barbara's daughter Linda.
As a session guitarist, Womack worked at producer Chips Moman's American Studios in Memphis, and played on recordings by Joe Tex and The Box Tops. Until this point, around 1967, he had had little success as a solo artist, but at American he began to record a string of classic soul-music singles including the 1968 "What Is This" (his first chart hit), "It's Gonna Rain" and "More Than I Can Stand," all of which featured his elegant, understated rhythm-guitar work and his impassioned vocals. During this period he became known as a songwriter, contributing many songs to the repertoire of Wilson Pickett; these include "I'm in Love" and "I'm a Midnight Mover."
After moving to the United Artists label in the early '70s, he released the album Communication, and on an album with guitarist Gabor Szabo introduced his song "Breezin'," which later became a hit for George Benson. He also became known for his interesting taste in cover versions, essaying Fred Neil's "Everybody's Talkin' " as well as "Fly Me to the Moon (In Other Words)" and James Taylor's "Fire and Rain'" and "California Dreamin'." Perhaps his most well-known work from this period is as guitarist on Sly & the Family Stone's 1971 There's a Riot Goin' On.
He continued to have hits into the '70s; these include "Lookin' for a Love" (a remake of his 1962 Valentinos single), "Across 110th Street," "Woman's Gotta Have It" (covered by James Taylor in 1976), "You're Welcome, Stop on By," and the masterful "Daylight." All are excellent examples of burnished yet gritty 1970s soul music, and reveal a pop-music sensibility akin to that of Marvin Gaye or Curtis Mayfield.
Bobby Womack's 1981 album The Poet was a surprise hit and contained the hit single "If You Think You're Lonely Now." K-Ci Hailey, a notable admirer of Womack's work, covered "If You Think You're Lonely Now" in 1994. The song is referenced in Mariah Carey's song "We Belong Together", a number-one hit in June 2005. Carey sings "I can't sleep at night / When you are on my mind / Bobby Womack's on the radio / Singing to me: 'If you think you're lonely now.'"
Film director Quentin Tarantino used "Across 110th Street" (which, in a different version, had been the title song of the 1972 movie) in the opening and closing sequences of his 1997 film Jackie Brown.
A 2003 Saab commercial shone a spotlight on Womack's interpretation of "California Dreamin'".
In 2005, Womack's Hit Song "Across 110th Street" appeared in the hit Activision video game True Crime: New York City
As of 2006, Womack continues to record and to make live appearances.
Discographie
 1968 Fly Me to the Moon Minit Records
 1969 My Prescription Minit
 1970 Live
 1971 Communication The Right Stuff
 1972 Understanding The Right Stuff
 1972 Across 110th Street Charly Records
 1973 The Facts of Life The Right Stuff
 1974 Lookin' for a Love Again The Right Stuff
 1975 I Don't Know What the World Is Coming To United Artists
 1975 Safety Zone United Artists
 1975 I Can Understand It United Artists
 1976 BW Goes C&W United Artists
 1976 Home Is Where the Heart Is CBS Records
 1977 Pieces Columbia Records
 1979 Roads of Life Razor & Tie
 1979 Save the Children Solar Records
 1981 The Poet Razor & Tie
 1984 The Poet II Razor & Tie
 1985 So Many Rivers MCA Records
 1985 Someday We'll All Be Free Beverly Glen
 1986 Womagic MCA
 1987 Last Soul Man MCA
 1993 I Still Love You Universal Special Products
 1993 I Wanna Make Love to You Universal Special Products
 1994 Soul Seduction Supreme Castle Records
 1994 Resurrection Continuum
 1998 Soul Sensation Live Sequel Records
 1999 Back to My Roots The Right Stuff
 1999 Traditions Capitol Records
 2000 Soul Sensation Live Castle Music America
 2000 Christmas Album Indigo
 2001 Rubare Alla Mafia E' Un Suicidio Dagored
 2003 The Collection
 2006 Post
Admin




Nombre de messages

: 227


Date d'inscription :

14/09/2007





Sujets similaires
---
Permission de ce forum:
Vous
ne pouvez pas
répondre aux sujets dans ce forum